Header: Mandatory Credit: Photo by Moviestore/REX Shutterstock (1628956a)
She's got Brad Pitt (jealous). She has to look good and she does. Every time! She's topped loads of the "world's most beautiful women" lists over the years and inspired us with her book. She's a 40-year-old mum-of-six and she still amazes us with her full, pouty lips and piercing eyes.
Whether it's genetics of beauty, we can't get enough of Angelina. She's one of our top MYA style inspirations.
But has she or hasn't she?
Her Cheeks and Lips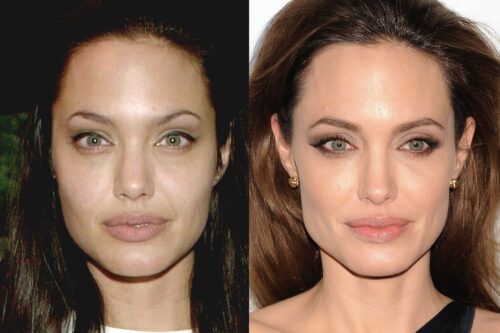 2000 Mandatory Credit: Photo by RICHARD YOUNG/REX Shutterstock (323286bp)
2011 Mandatory Credit: Photo by Broadimage/REX Shutterstock (1518053d)

In recent years, rumours have spread that the striking brunette has undergone various non-surgical procedures to maintain the sculpted features and plump pout she's so famous for.
What the Experts Say
Specialists claim that those luscious lips and high cheekbones have had some subtle support, including Beverly Hills surgeon Dr. Susan Evans who is convinced that the star has retained her looks with dermal fillers. "Angelina's gotten some nice fillers that accentuated her cheekbones," she said. Although she has not treated the star, Dr Evans added: "Angelina looks like she may have added a drop of fillers to her lips to keep them plump. Within time, even the greatest lips shrink, become more wrinkled, and may need a drop to smooth out the wrinkles."
Her Face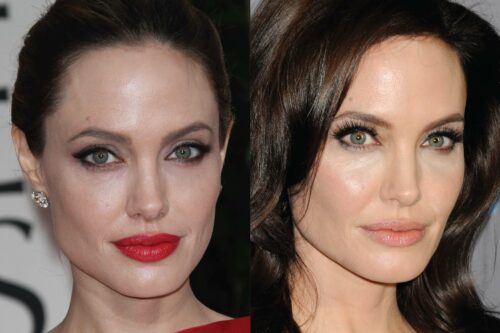 2012 Mandatory Credit: Photo by Jim Smeal/BEI/REX Shutterstock (1535052a)
2015 Mandatory Credit: Photo by Broadimage/REX Shutterstock (4377260ck)
Angelina's dewy skin and timeless complexion have also been the subject of debate. Some recent paparazzi snaps suggest a more youthful, firmer appearance than a few years ago.
What the Experts Say
It could all be down to changes in weight (remember those skinny shots) or better lighting, but Hollywood isn't convinced. Beverly Hills specialist, Zara Harutyunyan, credits the star's fresh-faced glow to non-surgical cosmetic treatments. She said: "She could have also had a non-surgical neck and face lift, which would give her similar results."
What the Star Says
In the past, Mrs Pitt has denied having any procedures. She challenged the rumours in a 2010 interview with the Daily Mail, saying, "I haven't had anything done and I don't think I will, but if it makes somebody happy then that's up to them. I'm not in somebody else's skin to know what makes them feel better about themselves. But I don't plan to do it myself."
The Verdict
She's not admitted to having any lip or cheek fillers, and she had those amazing assets to start with! Whether her pout is kept plump and her cheeks striking by the work of subtle fillers, good genetics, or the make-up team an A-list star would expect, we're not sure.
The one thing we are sure on is she looks amazing, and we love her.