We are not ones to speculate (jokes) but has anyone else noticed Kylie's increased bust lately? Now we all know the hacks and tricks of padded bras, chicken fillets and all other contraptions that are on the market but when it comes to a bikini, there is little or nowhere to hide the size of your breasts.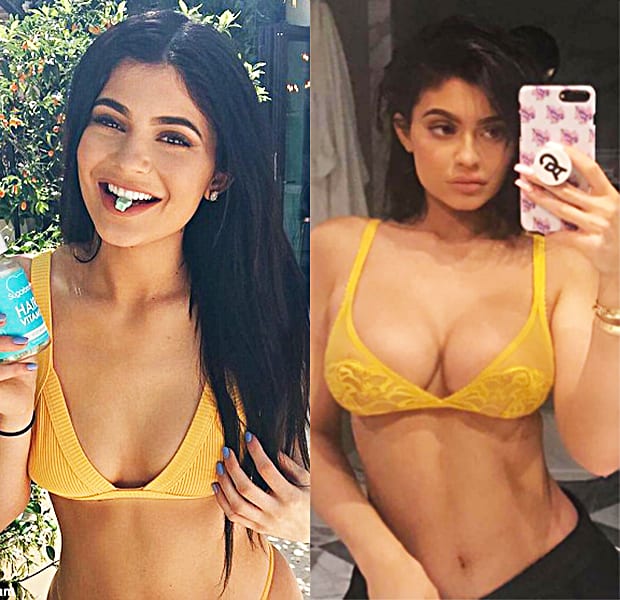 Sunning it up in Mexico with her beau rapstar Tyga (26), the 19-year-old has been posting endless racy poolside pics of her rocking some beautiful bikinis and swimsuits across her social media. It's Kylie's Snapchat that's been heating up the most so after looking at her pics, we can't help but be distracted by her amazing figure. Oh and those boobs!
Compare these bikini shots to the ones she posted to her Instagram back in October for Halloween where she dressed up in her Christina Aguilera "Dirty" costume and you just can't deny the enhancement. Like we said, there is nowhere to hide in a bikini.
So....WHAT DO YOU THINK???
Don't just take our word for it we asked one of our expert breast surgeons Dr Andrea Giannitrapani his opinion.
"There is a clear size increase to Kylie's breasts looking at the side profile of these comparison pictures. Although they are not out of proportion with her frame, they look as though they still need time to settle and could in fact still be swollen. If she intended on keeping the procedure a secret, the surgeon will have gone for an implant size to suit her frame and for the result to look as natural as possible whilst still creating the volume increase she desired. "
Kylie has always denied the fact she has had a breast enlargement previously taking to Twitter responding to fans that began to speculate saying:
So who knows, maybe her romantic getaway trip was during the time of the month? (We think not)
We want to know your thoughts: has she or hasn't she? We've got a live poll on Twitter so head over to vote and let us know your thoughts!