No other celebrity in the world sparks as much debate as the glamorous Kim Kardashian – is her stunning beauty thanks to Mother Nature or has she had some help from surgery? Kanye's other half first rose to fame for hanging out with and organising the closet of Paris Hilton almost a decade ago. Can you believe there was once a time when the Kardashians didn't rule the the internet? Oh god, let's not think about it too long. Instead, let's take a closer look at the owner of the world's most talked about derrière and try to keep up with her ever-changing look.
Her Nose
The 34-year-old is known for introducing the world and Instagram to Contouring through videos and tutorials. She credits her flawless appearance and ever-changing nose shape down to on-point shading but could there be more to it? Have a look at the below photo and decide for yourself - clever contouring or a more permanent solution?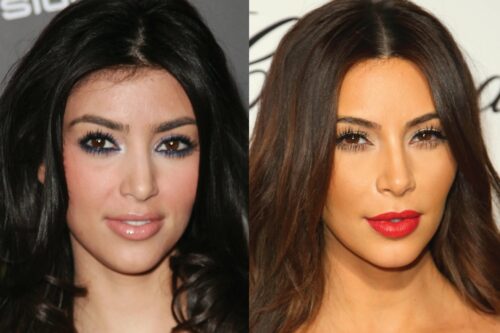 2007 Mandatory Credit: Photo by Startraks Photo/REX Shutterstock (655825aa)
2014 Mandatory Credit: Photo by PictureGroup/REX Shutterstock (3615996t)
What the Experts Say
Based in Michigan, Dr. Anthony Youn is a member of the American Society of Plastic Surgeons. He says, "I suspect that she may have had a rhinoplasty (nose job), as her nose looks thinner, shorter, and more refined now than it did in 2006". Whilst the surgeon is pretty confident that Kim has had surgery, the reality star has always denied having any procedure apart from Botox and laser hair removal.
Her Bum
Ever since she first graced the red carpet, Mrs West's show-stopping silhouette has been a talking point in practically every celeb magazine and blog. The world's most famous behind rivals the shapely figures of Beyoncé and JLo, but is it down to surgical enhancements?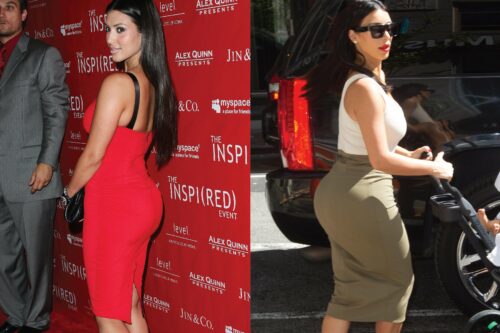 2007 Mandatory Credit: Photo by Startraks Photo/REX Shutterstock (679571z)
2014 Mandatory Credit: Photo by Startraks Photo/REX Shutterstock (3825802k)
What the Star Says
In an attempt to put an end to the gossip, the family's television show aired Kim having an X-ray back in 2011 to prove that she hadn't had any surgery on her bum.
During the show, Kim said: 'I've said numerous times 'I haven't had plastic surgery, I haven't had butt implants'.
What the Experts Say
Although the X-ray showed that there were no implants, Dr Michael Salzhauer, thinks this doesn't rule out some surgery. "I believe Kim when she says she doesn't have butt 'implants,' but that doesn't mean her butt is all natural," says the Miami-based surgeon.
Although he hasn't worked with Mrs West, Dr Salzhauer thinks Kim's curves are thanks to a popular procedure commonly known as a Brazilian Butt Lift. This involves liposuction to remove fat from the stomach, back and thighs which is then injected into the buttocks for a fuller size and shape.
He says: "The fat lasts FOREVER. It's your own fat, so as you gain weight it grows with you. Also, it is completely undetectable on x-ray or MRI. So there is no medical way to prove Kim K did or did not have that procedure."
The Verdict
It's easy to speculate about Kim's appearance because it changes almost daily. She switches up her make up routines just to throw us off her scent and once we think we understand it all, she chucks a waist-trainer into the mix. There's no way we can keep up with her but we'll definitely keep trying. She may be all-natural or there could have been a few little surgical tweaks to help her along the way but it's safe to say that Kim's our curvy, iconic inspiration queen!