Read the latest diary extracts from our rhinoplasty patient, Nareesha, a shoe designer who had her procedure just 4 weeks ago. Nareesha is also engaged to The Wanted's Siva and set to appear in their new reality series screened on E! Channel, following the Stateside adventures of the boyband. Watch this space, everyone!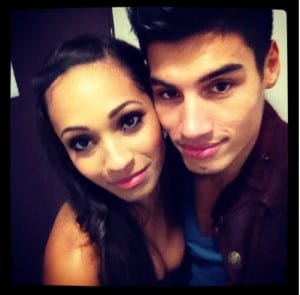 4 days before surgery
Feeling very nervous today. Counting down the days until my nose surgery. Going over and over in my head the changes I want to make to my nose, but I keep changing my mind as I am not sure how my nose is supposed to look. At the same time, I am very excited to fix my broken nose which has bothered me since the age of 14 and I'm looking forward to another consultation with my surgeon on the day of my surgery to make a final decision on actually what needs changing.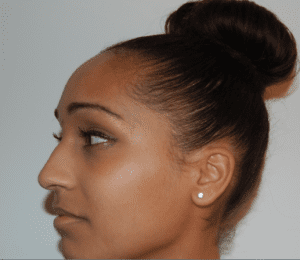 BEFORE
3 days before Surgery
Today I got a lovely little text from Nadja, my PC at MYA, just checking up on me and seeing if I had any more questions to ask before my surgery. She was extremely helpful and put me at ease with some concerns I had over the general anaesthetic used to put me to sleep. Again I'm feeling nervous about the procedure as the date is getting closer and I've never had any sort of surgery before.
2 days before surgery
With only 2 days to go before my surgery I needed to know more about the general anaesthetic as I am terrified of needles, and also about the nose packing after surgery. I rang the help line which MYA provide 24 hours a day and is run by the in-house nurses. The lady that I spoke to was extremely helpful and also gave me some tips on things to pack for my overnight stay after the surgery.
1 day before surgery
Rushing around today getting my final bits to take into the hospital with me and also some items for my recovery at home. One very important thing I purchased is a V-shaped pillow to help me sleep upright at home, to keep my nose protected after surgery and also to help my recovery from any bruising that may occur. Today I also received my allocated time for my surgery – eeeeek! By tomorrow I will have my new nose
I woke up today at 4:00am to get some food into my body before surgery. It's very important for me not to eat up to 8 hours before my surgery and not to drink any water up to 4 hours before. I'm feeling excited to finally get my nose fixed but also very scared and nervous about having the procedure. I do not really mind having the actual operation – I am more scared about the needles and the recovery process.
1 day after surgery
I am very pleased to say that the general anaesthetic and surgery was not as much of a big deal as I thought it was going to be. I got to the hospital and was made to feel at home in my room instantly. The staff were very pleasant and extremely helpful. My surgeon Mr. Gonschior was as delightful as ever and popped in to make sure I was comfortable in room. I am
very very very
happy with the overall experience! It made the idea of having surgery a lot easier for me. When I woke up from my operation I had a 24-hour nurse that took care of me all throughout the night. She was amazing. I wanted to take her home with me :). My surgeon also popped in to see me again just before I left the hospital, which was lovely as it gave me the opportunity to ask him about the surgery that took place and my aftercare.
Two weeks post surgery
As the days got closer to have my cast off, it began to feel very loose and irritating but I was very excited to see what was under it. It almost felt like I had no idea what nose I was expected to see. When I was having the cast off, it hurt a little. Not on my actual nose, but taking that bandage off that had been taped to my face for two weeks. When I looked in the mirror at my nose I was extremely happy with the results. My broken nose was finally fixed! Although I still had a lot of swelling from the surgery, I could really see the difference. I do have to wait a few more weeks to have an idea of the full results as the swelling takes a bit more to reduce, but all in all I am very happy with the results! Eeeeeek!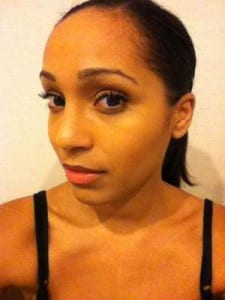 Three weeks post op