What are Tubular Breasts?
Tubular or Tuberous breasts are common in many women, and often go unidentified due to the lack of knowledge around the condition. Tubular breasts can occur during puberty, when there is abnormal development in the shape and size of the breast. The condition can present itself in one or both breasts and the physical appearance can range from mild to severe.
There are common physical attributes linked to tubular breasts, for example the breast tissue usually forms in the nipple area and there is a lack of breast tissue in the lower pole of the breast, often causing the breasts to form a cone-like shape and enlarged or puffy areolas.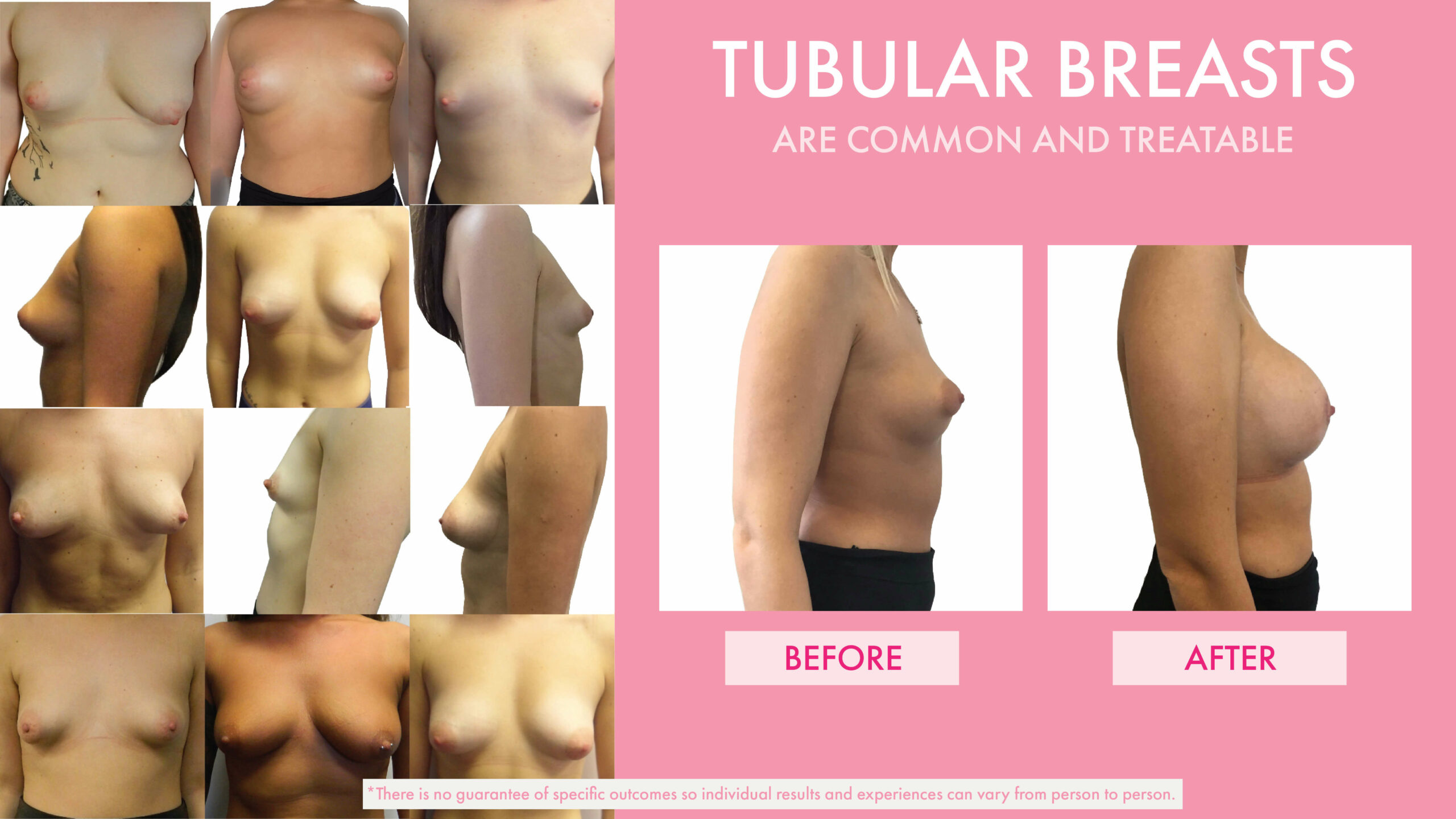 What are the features of Tubular Breasts?
Every patient's breasts are different, some may only have mild characteristics of tubular breasts and others may have multiple characteristics. 
• Enlarged or puffy areolas (area surrounding the nipple)
• Unusually wide spacing between the breasts
• Minimal breast tissue
• Sagging
• Higher than normal breast fold
• Narrow base at the chest wall
• Asymmetry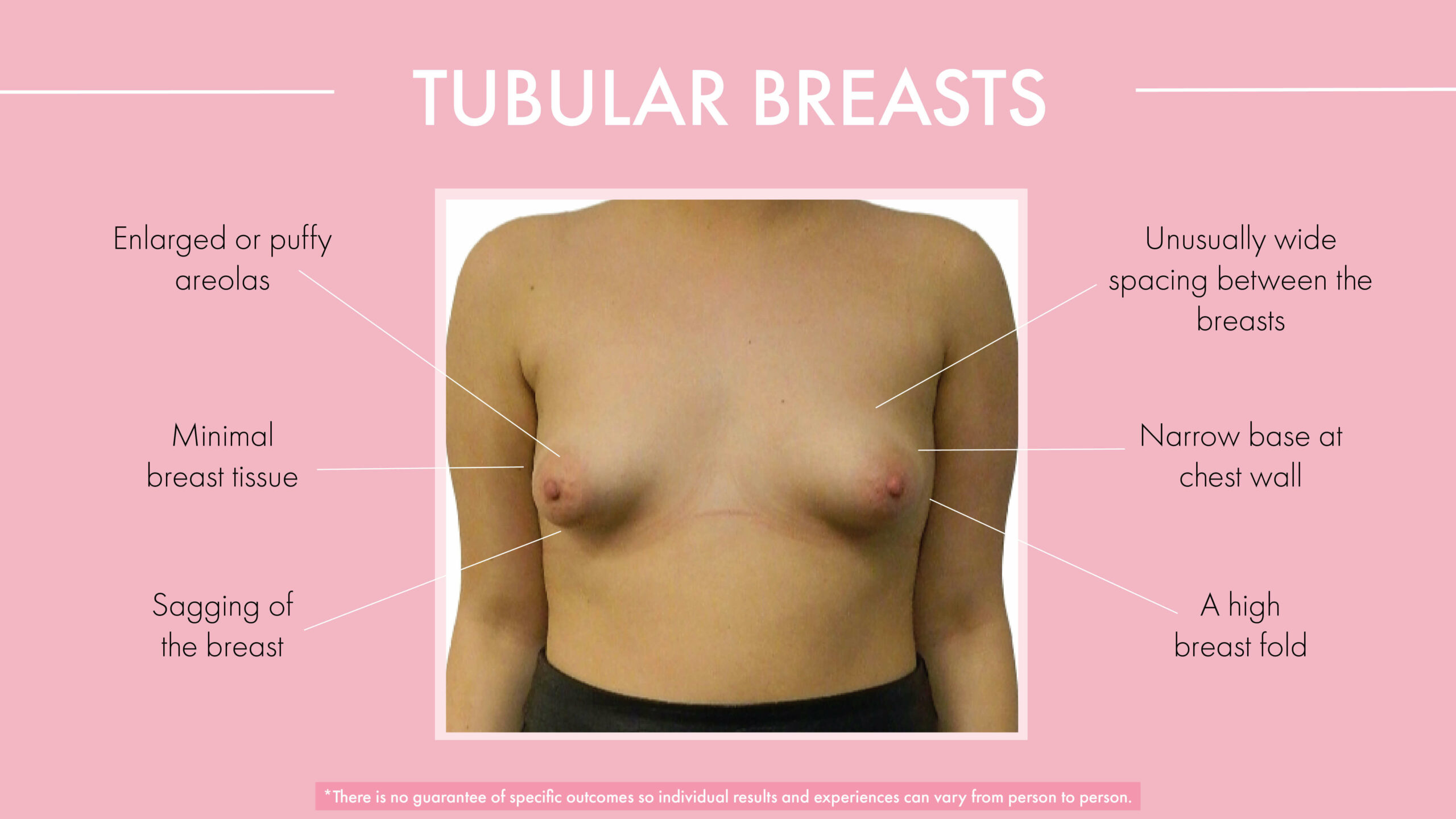 Can you correct tubular breasts with cosmetic surgery?
Yes, tubular breasts can be corrected with cosmetic surgery. Depending on the severity of your tubular breast(s), one of our highly skilled surgeons will suggest the best course of action for you. It is likely that a straightforward breast enlargement will achieve what is believed to be a "normal" breast shape. It is likely a breast augmentation will be combined with a nipple lift, reduction or mastoxpexy (uplift) to correct more severe tubular breasts. All of these options will be discussed at great length with your eConsult advsior and MYA surgeon during your consultation. Our MYA surgeons have come across many tubular breast cases and are experienced in corrective surgery achieving their patient's desired result.
MYA Surgeon Dr Sleiter Explains: What are Tubular Breasts?
This video contains bare breasts and is age restricted, please login to YouTube to view.
How long will recovery take for tubular breast surgery?
Every patient's recovery time is different, but most tubular breast correction patients should expect a minimum 6 weeks healing period. It typically takes 6 weeks for scars to heal and for breast implants to drop and fluff, however, it can take up to a year for scars to fully fade.
#MYAGirl Aaliyah shares her tubular breast surgery story 
This video contains bare breasts and is age restricted, please login to YouTube to view.
Can tubular breasts be corrected without implants? 
It depends upon the patients desired result, your MYA surgeon will explain the best procedure to help achieve this following a physical examination during your consultation. Due to the common characteristics of tubular breasts, an implant is often used to help create shape and offer the upper fullness to the breast.
Follow my Instagram Journey
#MYAGirl @mya_ba2305 started an Instagram Journey to document her Breast Enlargement & Tubular breast correction with MYA!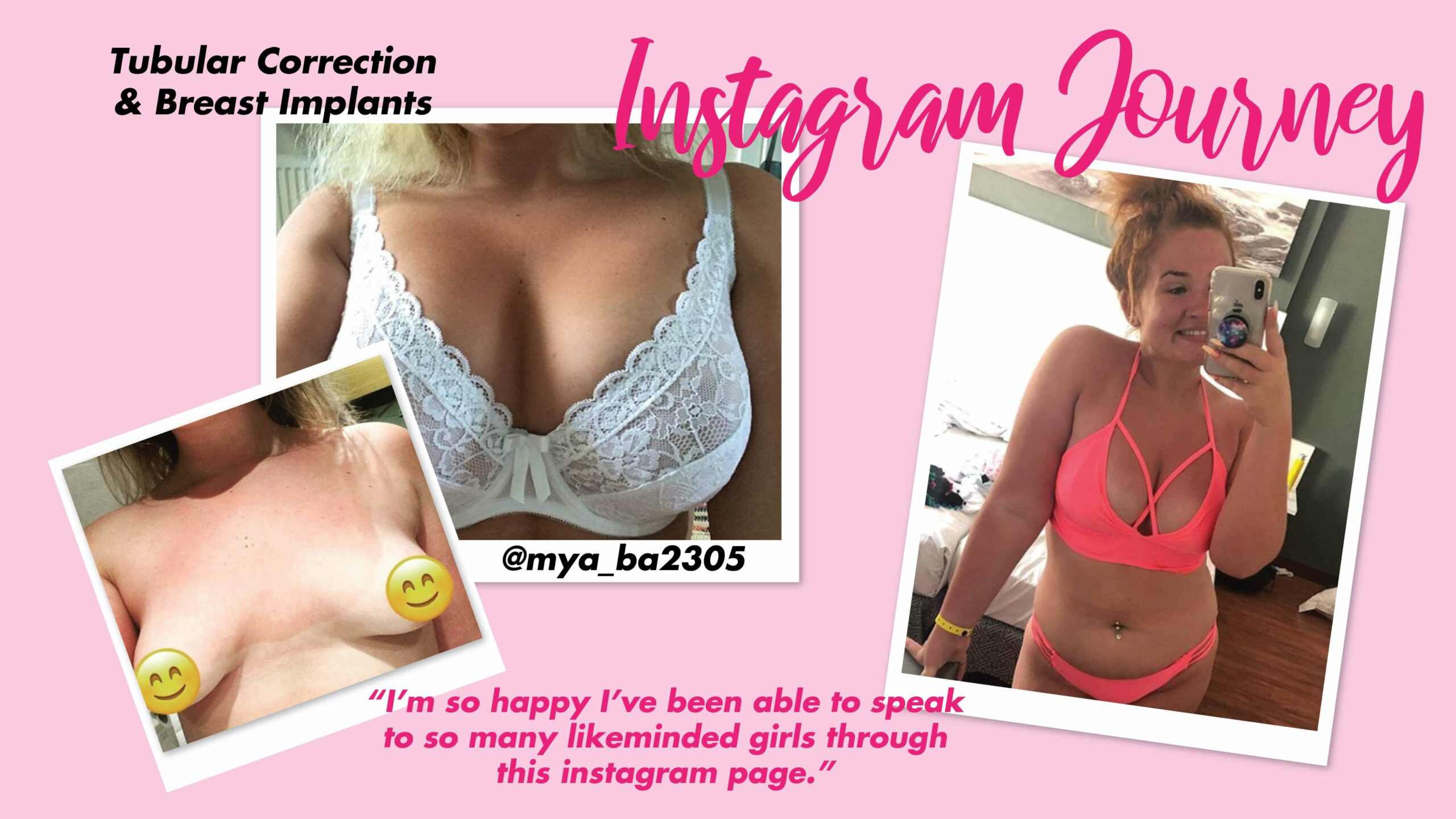 If you believe you may have tubular breasts and would like to speak to MYA to discuss tubular breast correction surgery, please call 03330 14 10 14 or complete our online enquiry form for a free call back.