MYA are proud to be leader within the cosmetic surgery industry, constantly thinking of new ways that we can create a supportive, modern and personalised experience. Our online consultations allow you to speak directly to our expert team of consultants about our cosmetic surgery options, from anywhere across the UK.
What is an eConsult?
For the past year we have been developing an innovative new eConsult platform to offer greater flexibility and convenience for your first consultations within a secure and private space. Our eConsults bring the MYAWorld into the comfort of your own home so that you can discuss the often personal and emotional reasons as to why you are considering cosmetic surgery in a place where you feel most comfortable. You can book your online consultation for a time that suits you and your lifestyle, so if you have a busy schedule or struggle to organise travel, childcare or the usual things that can get in the way then let MYA come to you instead, we connect via your phone or computer so it couldn't be easier to take that first step to in your journey.

We understand just how emotional those first steps into discussing your procedure can be, and we truly care about ensuring you feel comfortable and supported during your MYA experience, so we've built the eConsult experience around you. The eConsult is only the start of your journey with MYA and from time to time you will still come to one of our clinical centres to meet surgeons and nurses whilst having a procedure at a specialist hospital facility.  All of this will be with the added support from our Patient Portal (MYA built application) and our centralised specialist MYA team all dedicated to ensuring that you have the most convenient and specialist experience.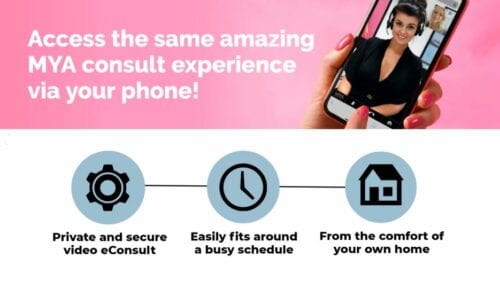 How does the online consultation work?
Connecting to your eConsult is simple. Book your eConsult online and follow these simple steps to get connected with your Patient Coordinator: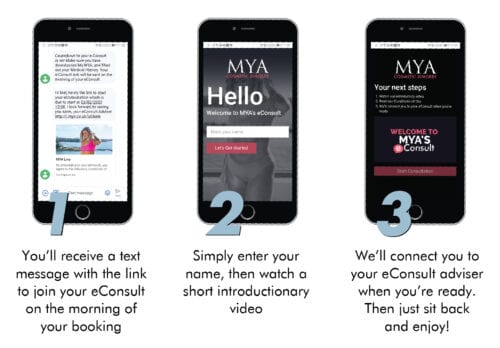 You'll receive a text message with the link to join your eConsult on the morning of your booking
Simple enter your name, then watch a short introductory video
We'll connect you to your eConsult adviser when you're ready. Then just sit back and enjoy!
How do I book an eConsult?
It's really easy! Book your eConsult online now by following the link below. Otherwise, you can submit your details on our Contact page and one of our trained advisors will give you a free call back and get you booked in.