What is an eConsult?
MYA is committed to pioneering modern ways to provide a high-quality and efficient service for our patients. We offer a tailored experience to meet our patients' needs and we are proud to be the first cosmetic surgery provider to offer virtual eConsultations.
Our FREE eConsult service allows patients to speak directly to our expert team of Advisors via a secure and private video call from anywhere in the UK. Our patients can meet with their eConsult Advisor, their assigned Surgeon and attend Nurse pre-op appointments from the comfort of their own home and still receive the same personalised and supportive experience.
We understand how busy life can get, so let the #MYAWorld come to you! Our technology-first service allows you to book appointments that fit around your schedule and to discuss the often personal and emotional reasons you are considering cosmetic surgery, in a place where you feel most comfortable.
Why eConsults are best
Reduces travel
Save on travel time and have your eConsult without the hassle. No more battling public transport or city centre traffic and you won't even have to arrange childcare.
Convenient & Safe
Enjoy the MYA experience from the comfort of your own home and limit your face-to-face interactions for essential contact only. Another way we're keeping you safe during COVID.
Easy-to-use
We send you a link on the day of your eConsult and it's a one-click joining process. Access from your mobile, tablet or laptop straight away in any web browser.
What is an eConsult Advisor?
Our dedicated and professional eConsult Advisors have a wealth of knowledge and experience; they will help guide you through your journey with MYA and what to expect. During your eConsultation, you will learn about your procedure, see before and after photos and discuss costs and payment plans.
Our friendly eConsult Advisors will match you with a surgeon and provide you with all the information you need to help make an informed decision. No pressure, no obligation - they are here to help you take those first steps and create a personalised experience for you!
 

"I had my e-consultation back in May and my eConsult advisor Annie was absolutely amazing. She filled me with confidence, answered all of my questions and gave me all of the information I needed to make a decision about my breast augmentation. I didn't feel rushed or pressured into making a decision at all, but I knew that MYA was the company I wanted to go with." @myagirl_082020
When will I meet my Surgeon?
Firstly, you will meet your surgeon via eConsult video call as part of a 2-stage consent process. During the first eConsult, your surgeon will run through the procedure, review your pre-surgery photos that you uploaded via our MYA Patient Portal, ask about your requirements and the look you want to achieve and outline any risks and limitations.
This is a great opportunity for you get to know you surgeon and to ask any questions. It's important that you feel comfortable and confident with the surgeon that you move forward with and this initial eConsultation will help you to feel more at ease when you attend your physical surgeon appointment.
If you and your surgeon agree to proceed, you will then arrange to meet your surgeon for a physical consultation at one of our 6 National Clinical Hubs. This consultation will involve taking any measurements, pre-operative photos, discuss implants if applicable, and give you an opportunity to ask any further questions.
What is a Nurse ePre-op?
You will first meet a MYA nurse at your vitals check during your Clinical Hub day. This will be followed up by a video ePre-op consultation to run through your medical history in more depth and discuss any findings from your GP summary. Your MYA nurse will also explain what to expect, how to prepare for procedure day and outline your post-op care requirements to ensure the best possible healing outcome. 

What to expect during an eConsult?
On the morning of your eConsult, you will receive a text message and email that contain a link for your eConsult. Click the link, enter your name and watch a short introductory video. From here, you will be taken to a virtual waiting area where you will then be connected to your eConsult Advisor. You will be expected to show a form of ID so please have this ready.
MYA eConsults are designed to help you gain information to make an informed decision. You will still access the same amazing MYA service but at time and place convenient to you. So, make yourself a cup of tea and sit back and enjoy the consultation.
We do ask that you find a quiet space with no distractions so we can give you the best experience possible. Make sure you have a strong internet connection that isn't going to cut-out, we suggest using Wifi instead of 4G.
To satisfy the growing demand for our services, we are offering daytime, late and weekend eConsult slots - available from the comfort of your own home – or even your lunch break!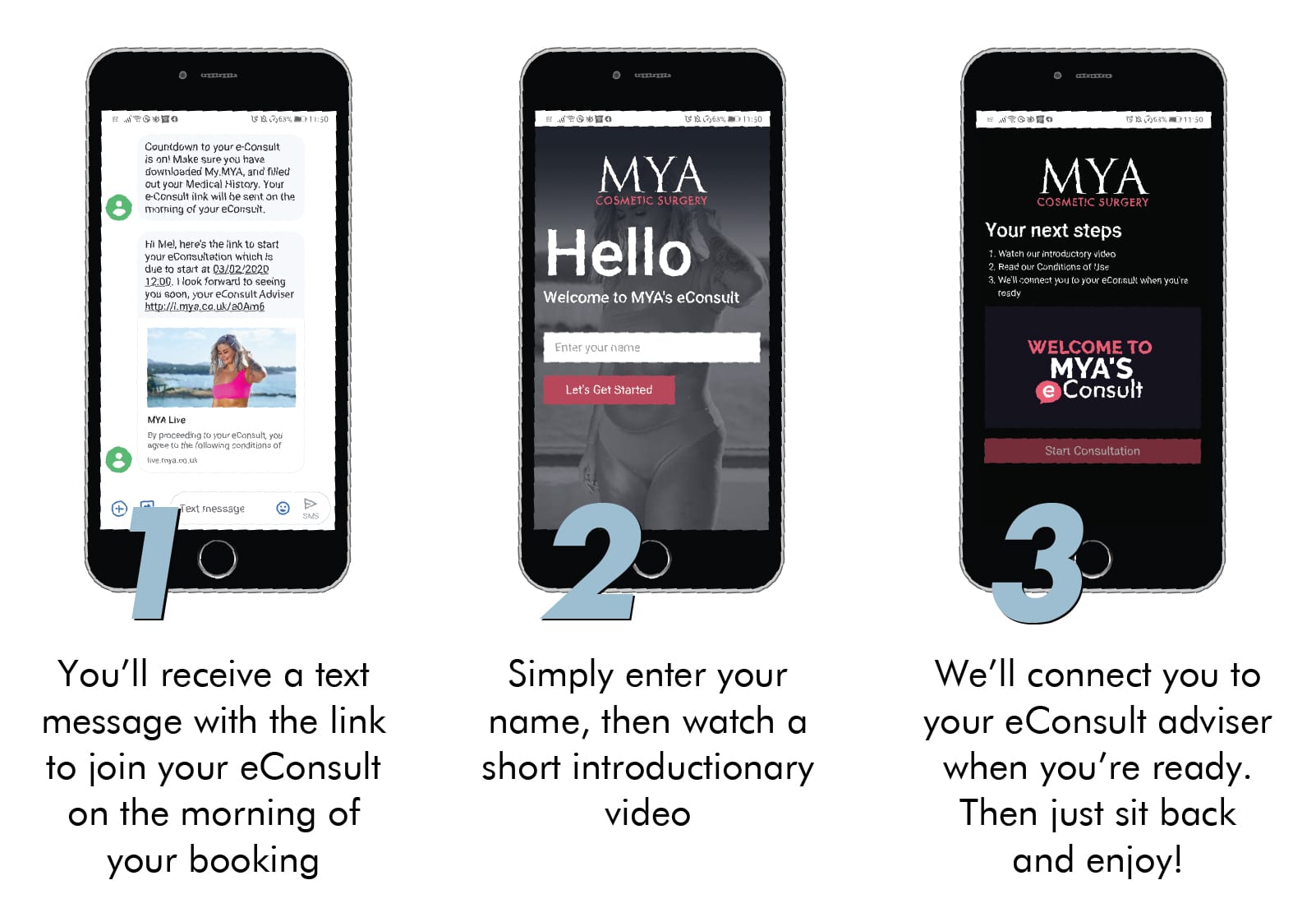 How do I book an eConsult?
Book your eConsult online now by following the link below. Otherwise, you can submit your details on our Contact page and one of our trained advisors will give you a free call back and get you booked in.