Boob Job
Breast enlargements, or "boob jobs", are a popular choice for women who would like a larger breast size or a fuller, more enhanced shape. One of the UK's most popular cosmetic surgery procedures, breast enlargement has the highest rate of satisfaction amongst our clients and you can see why on our before and after page.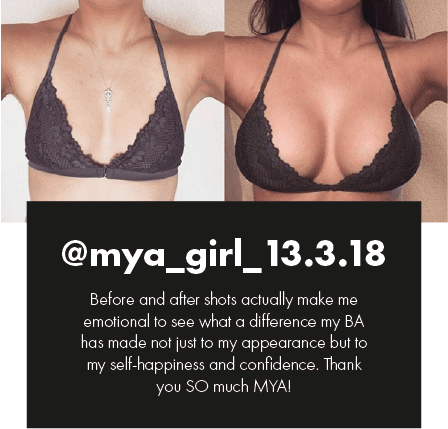 Breast augmentation can help restore confidence and fullness following pregnancy or weight loss. The procedure can also help create your desired size and shape if you feel that one of your breasts is noticeably larger than the other, or if you would simply like a larger cup size.
When considering a boob job, the cost is likely to play a big part in your decision making process. At MYA, we'll talk you through exactly what the procedure cost includes so you can make a confident decision.  
Boob Job Cost in the UK
Our aim is to provide high quality care from your initial consultation right through every step of your MYA journey. Our commitment to service is reflected in our prices with a dedicated care package to ensure you receive the support you deserve. Your procedure price includes:
Your free initial consultation with an information pack confirming the time and date of your appointment.
Your own Patient Co-ordinator, your personal point of contact throughout your MYA journey.
A free consultation with one of the world's most experienced specialist cosmetic surgeons.
A pre-operative medical assessment to ensure you are fit and healthy ahead of surgery.
Your procedure carried out at one of the UK's finest cosmetic surgery hospitals, with the option for an overnight stay in an en suite room including 24 hour room service, satellite TV and breakfast.
Our aftercare policy, which includes all post-operative assessments with your surgeon and one of MYA's qualified nurses.
A 24-hour emergency helpline manned by our network of nurses, for on-going support 7 days a week, 365 days a year.
For information the cost of cosmetic surgery click here and for information on pricing across our range of procedures, please see the links below: