What is a Boob Job?
Breast enlargements, or "boob jobs", are a popular choice for women who would like a larger breast size or a fuller, more enhanced shape. One of the UK's most popular cosmetic surgery procedures, breast enlargement has the highest rate of satisfaction amongst our clients and you can see why on our before and after page.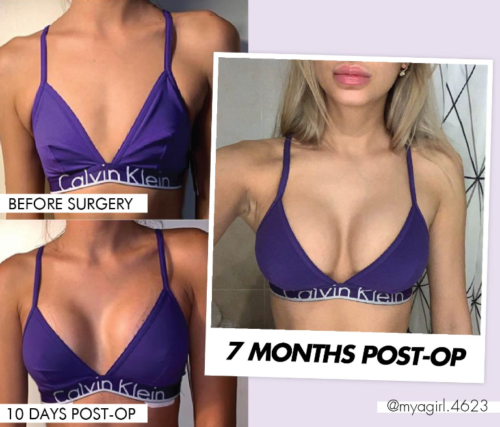 Breast augmentation can help restore confidence and fullness following pregnancy or weight loss. The procedure can also help create your desired size and shape if you feel that one of your breasts is noticeably larger than the other, or if you would simply like a larger cup size.
When considering a boob job, the cost is likely to play a big part in your decision making process. At MYA, we'll talk you through exactly what the procedure cost includes so you can make a confident decision.  
How much does a boob job cost in the UK?
Our breast surgery procedures start from £5,795, more specific price information is included for each breast treatment in the section below:
Breast enlargements from £5,795
A breast enlargement increases breast size, or achieves a fuller shape by inserting an implant through a small incision in the breast crease.
Breast Uplift (Mastopexy) from £6,500
A mastopexy lifts sagging breasts by correcting the shape and size of the breasts and nipple without using an implant.
Breast Uplift with Implants (Augmented Mastopexy) from £8,195
An augmented mastopexy lifts sagging breasts by correcting the shape and size of the breasts and nipple and achieving a fuller shape by inserting an implant.
Breast Reduction from £7,910
A breast reduction reduces the weight and volume of the breasts by removing excess breast tissue and reshaping the size and shape.
Implant Removal & Reaugmentation from £6,595
A removal & reaugmentation surgery removes the patient's current implants along with any scar tissue, the breast pocket is repaired and new implants are placed.
*Prices are not fixed and may vary; procedure costs are tailored to individual requirements. You will receive a price guide during your initial eConsult and a fixed price following your surgeon assessment.
What's included in the price of a boob job?
Our aim is to provide high quality care from your initial eConsult right through every step of your MYA journey. Our commitment to service is reflected in our prices with a dedicated care package to ensure you receive the support you deserve. Your procedure price includes:
Your FREE initial eConsultation – with one of our friendly and experienced eConsult advisors.
Access to your dedicated MYA patient services team; to ensure the smooth running of your MYA journey and answer any queries along the way.
You will receive exclusive access to the MYA patient portal; to complete and sign your documents, access the live chat feature and MYA social world.
Your assigned specialist MYA surgeon consultation.
You will receive a full medical assessment with a clinical nurse; to check your vitals and ensure you are fit and healthy ahead of your procedure.
Your procedure at one of the UK's finest cosmetic surgery hospitals, with the option of an overnight stay including breakfast.
Our MYA aftercare policy; including all post-operative assessments with your surgeon and one of MYA's qualified nurses.
Our 24 hour emergency helpline manned by our network of nurses, providing you with ongoing support 7 days a week, 365 days a year.
What payment options are there available?
MYA have an in-house team that are here to offer options and solutions for patients interested in learning more about finance. Our specialist Funding Solutions Team is a dedicated resource that will help you find the best route to financing your procedure. Our Funding Solutions Team look at everybody on an individual basis and assesses their personal circumstances to see if there is something we can do to help. We still need to run a few checks to ensure you can afford the repayments, but we are flexible and will do what we can to try and fit your situation to a bespoke plan.
You can apply for finance at any point in your MYA journey, speak with our Funding solutions team directly to discuss the best option for you. You can call 03330141014 and follow the instructions or email fundingsolutionsteam@mya.co.uk including your full name and contact details and photo ID.
Boob job testimonials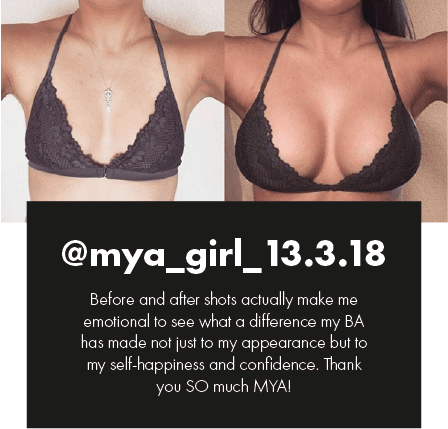 @myagirl.4623 "This is by far the best decision I have ever made I am over the moon with the results"
Discover more treatment options at MYA
For information the cost of cosmetic surgery click here and for information on pricing across our range of procedures, please see the links below: