What is an eConsult?
MYA are proud to be the first cosmetic surgery provider to offer virtual eConsultations to our patients, with over 9,500 eConsults taken place so far this year. You can speak directly to our expert team via a secure and private video call, meet with your assigned Surgeon and attend Nurse pre-op appointments from the comfort of your own home and still receive the same personalised MYA experience. 
We understand that considering cosmetic surgery can be a deeply personal and emotional topic, our specialist trained eConsult advisors are friendly and empathetic and will help guide you through your journey with MYA. They have a wealth of knowledge and experience and will provide you with all the information you need to help make to make those first steps.
Our FREE eConsult service is simple and easy to use, so let the #MYAWorld come to you!
What to expect?
On the morning of your eConsult, you will receive a text and email with a link to your personal eConsult. Click the link, enter your name and watch a short introductory video. From here, you will join a virtual waiting room where you will then be connected to your eConsult Advisor.  Don't forget to have your ID ready to show as a form of identification!
Our eConsults are designed to give you access to the same amazing MYA service but at a time and place convenient to you. So, make yourself a cup of tea and sit back and enjoy the consultation.
Make sure you have a pen and paper nearby to jot down any notes, this is the perfect opportunity to do your research and ask all those questions you've been thinking about. We suggest preparing some questions for your eConsult Advisor in advance as there is a lot of information to retain and you may forget your questions in all the excitement. 
Please find a quiet space with no distractions (children or pets) so we can give you the best experience possible. We do ask that you make sure you have a strong internet connection that isn't going to cut-out and use Wifi instead of 4G where possible.
You will still be required to attend a physical appointment at one of our 6 National Clinical Hubs with your Surgeon and MYA Nurse.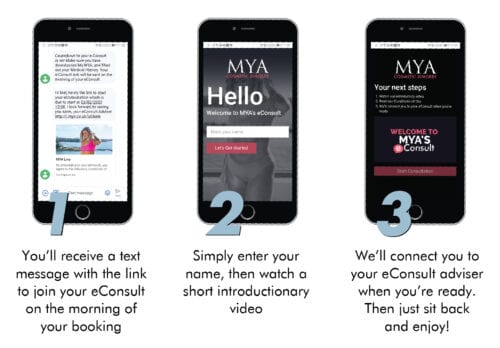 How do I book an eConsult?
It's really easy! Book your eConsult online now by following the link below. Otherwise, you can submit your details on our Contact page and one of our trained advisors will give you a FREE call back and get you booked in.