What is Breast Asymmetry?
Breast asymmetry is characterised by a variation in breast size, volume, and position, ranging from mild to severe. There are several reasons why a woman's breasts can change in size or volume, causing breast asymmetry, including: puberty, pregnancy, trauma or hormonal changes. 
Breast asymmetry is extremely common, affecting more than half of all women to different degrees. Slight variances in a woman's breasts are of little concern; however, if the differences are greater than one cup size, or if a patient presents with severe ptosis (sagging) in one breast it can cause patients psychological distress or self-confidence issues. 

Common physical characteristics linked to Breast Asymmetry:
Every patient's breasts are different, some patients may present with one or a combination of physical characteristics. 
Ptosis (sagging of the breasts)

 

Difference in size of breasts

 

Difference in volume of breast

 

Breasts sit in different positions

 

Nipple asymmetry (nipples may point in different directions or appear uneven)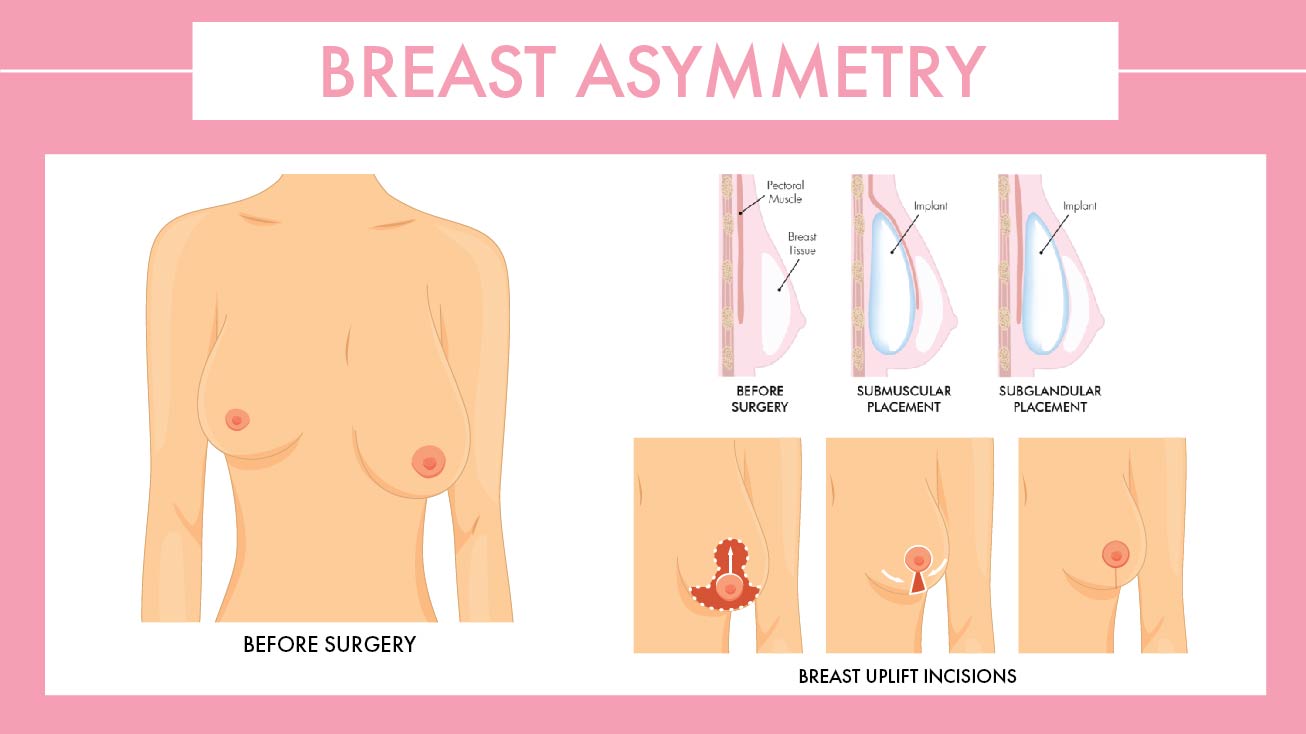 How can Breast Asymmetry be treated?
Breast asymmetry, is often treated with a breast enlargement, breast uplift, or breast reduction procedure. Both procedures are popular in the UK for patients who are looking to achieve a more symmetrical breast shape and size. It is not uncommon for each breast to require different procedures and implant sizes. Depending on the severity of the patient's breast asymmetry, one of our highly skilled surgeons will recommend the best treatment plan for them. 
Our expert MYA surgeons will correct the shape, size and position of one or both breasts, to create symmetry, often with the use of breast implants. Patients may require an uplift to alleviate ptsosis and the surgeon may also choose to reduce the size of the areola or reposition the nipple to achieve even breasts and the patient's desired outcome. 
Breast asymmetry correction procedures can take between 1-2 hrs and are performed under general anaesthetic. Depending on personal preference and surgeon recommendations, patients have the option to be a day patient or stay overnight to recover in one of our MYA hospitals. 
Are you unsure if you have breast asymmetry? Take a look at your amazing before and after images below and arrange your FREE eConsult today! 
*Patient Satisfaction taken from PHIN.org.uk (Private Healthcare Information Network)