Liposuction, also known as lipo, lipoplasty or fat removal,  is a surgical procedure that removes fat from deposits beneath the skin using a hollow stainless steel tube with the assistance of a powerful vacuum to reshape the area of treatment. It is carried out under general anaesthetic at one of our wonderful MYA hospitals. With liposuction, you are able to have multiple areas treated at the same time meaning procedure time can vary from 30 minutes – 2 hours. Whether you are looking to remove fat from your hips, stomach, legs or arms, MYA's highly experienced team of UK based surgeons and state-of-the-art theatres are the right choice for your liposuction procedure.
What can be achieved with Liposuction?
Liposuction surgery is used to remove stubborn pockets of fat and help to sculpt and contour the target areas to give a more shapely appearance. This is not designed as a weight loss treatment or to tackle obesity. People who fall into this category will need to seek advice from their GP. Prior to your consultation your BMI (body mass index) will be assessed, this will help the surgeon determine your suitability. There are physiological limitations as to the quantity of fat that can be removed at any one time. Realistic expectations are the most important aspect when considering liposuction. Your surgeon will discuss the limitations surrounding this procedure at your consultation.
MYA recommend 7 – 10 days off work after liposuction. During this time the area must be kept clean and dry. You will have small incision sites in the area treated where you have dissolvable sutures. Wearing your supplied garment is also compulsory for 4 – 6 weeks as this will help reduce swelling and assist with your result.
Which areas of the body can be treated with liposuction?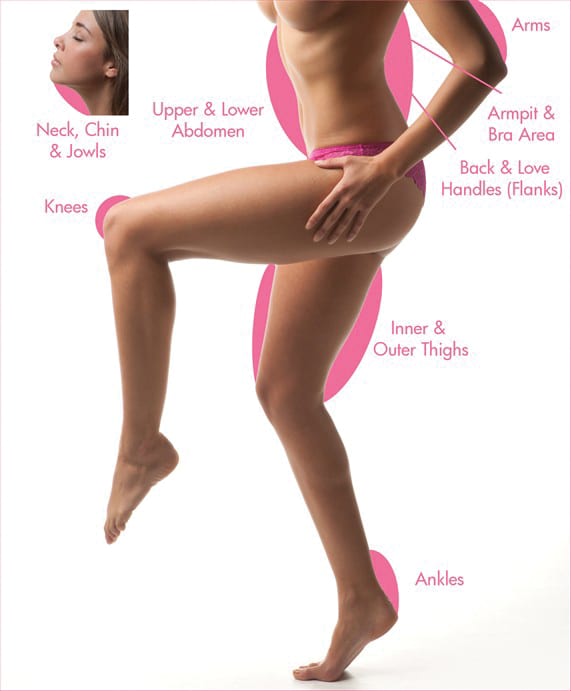 Common areas for liposuction treatment include:
Hips
Stomach
Thighs
Buttocks
Neck & Chin
Back
Upper arms
*There is no guarantee of specific outcomes so individual results and experiences can vary from person to person.