Abdominoplasty, commonly referred to as a tummy tuck, is a popular cosmetic surgery procedure for both men and women who are looking to achieve a flatter stomach.  
What is a Tummy Tuck?
An abdominoplasty is a surgical procedure that removes excess skin, fat, unwanted scars and stretch marks from the abdomen. Depending on the type of tummy tuck procedure, the surgeon may also tighten and repair the stomach muscles to give a flatter appearance to improve the shape and appearance of the abdomen.  
Weight loss, ageing or multiple pregnancies can all contribute to weakened stomach muscles, excess fat and loose skin. A tummy tuck procedure can help to improve the shape of the abdomen and can be a life-changing procedure for many patients, instilling confidence and contributing to improved health and lifestyle.  

Tummy Tuck Surgery
After a thorough assessment of BMI and suitability for surgery, the surgeon will recommend the best treatment plan and discuss the risks, limitations, and benefits of abdominoplasty surgery. 
Abdominoplasty can also be combined with other procedures such as liposuction (fat removal) and is carried out under general anaesthetic. Depending on the type of tummy tuck, the procedure can take up to 3 hours and patients will be required to stay for 1-2 nights in one of our MYA hospitals to recover.  
Tummy tuck recovery is described as similar to a C-section. After surgery, patients may experience pain, discomfort, bruising, and swelling, this is normal following an abdominoplasty procedure and should begin to subside between 7-21 days following surgery. Pain relief will be provided to ease any pain or discomfort. Following abdominoplasty surgery, patients are required to rest for 14 days. Mobility will be restricted for the first week following surgery, however, it is important patients mobilise to reduce the risk of DVT (deep vein thrombosis). 
Patients will be required to wear compression garments for 4-6 weeks after surgery to aid healing and prevent excess swelling. Patients will also be required to attend post-operative nurse appointments at a MYA clinical hub to have their dressings changed and wound care delivered.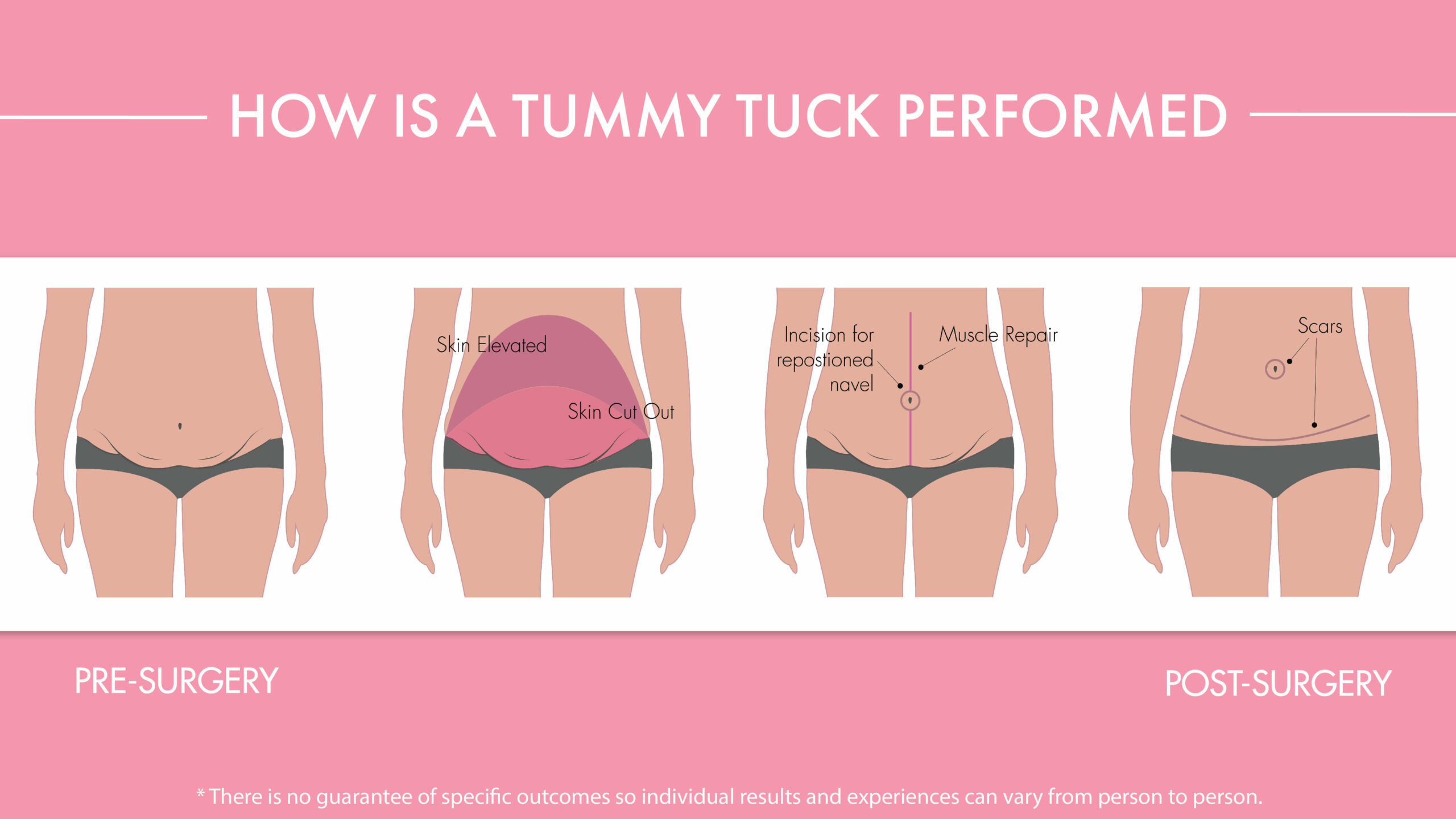 Benefits of a Tummy Tuck
An abdominoplasty procedure is not a weight loss solution; therefore, a tummy tuck is most beneficial to patients who are a stable BMI (body mass index) and do not plan to lose further weight. Benefits of abdominoplasty surgery include the following: 
A more slender stomach, which can contribute to both men and women feeling younger and rejuvenated

 

Improved shape and appearance of the abdomen

 

Increased confidence and self-esteem

 

Reduced irritation and sweating to lower abdomen 

 

Tightened stomach muscles 

 

To correct surgical scaring from a C-section or trauma

 

Improve the appearance of stretch marks 

 

Help patients 

to

 feel more comfortable in a wider choice of underwear and swimwear 

 

Ability for patients to wear more fitted clothing

 
Different types of Tummy Tuck
Full Abdominoplasty: A full abdominoplasty is suitable for patients who have large fat deposits, excess lax skin, and poor muscle tone in the underlying muscles. A horizontal incision is made hip to hip and around the umbilicus (tummy button), which is repositioned during the procedure. Fat deposits and excess skin are removed, and the stomach muscles are tightened. Depending on the technique, patients may require wound drains. 

 

Mini Tummy Tuck/Modified abdominoplasty:

 Mini tummy tucks are typically suitable for those who 

have good quality muscle tone and 

are looking to remove small amounts of excess lax

 

skin from the abdomen.

 

This procedure involves making an incision to the lower abdomen to remove small amounts of excess skin.

 

Fleur De Lis Tummy Tuck: A fleur de lis tummy tuck is suitable for patients who have excessive fat deposits, excessive abdominal skin folds and poor muscle tone. This procedure involves the surgeon making a vertical incision as well as a horizontal incision hip to hip and an incision around the umbilicus (tummy button), which is repositioned during the procedure. Depending on the technique, the patient may require drains.

 

Tummy Tuck combined with Liposuction (Fat Removal): A tummy tuck prcoedure can be combined with liposcution, this procedure is s

uitable for patients with fat deposits that cannot be treated alone with abdominoplasty surgery. Depending on the technique, wound drains may be required.

 

Complex Tummy Tuck:

This usually occurs after more severe weight loss or multiple pregnancies. 
How Much Does a Tummy Tuck Cost?
The cost of fat removal procedures with MYA start from £7,095. Procedure costs are tailored to individual requirements, and you will receive a fixed price following your surgeon assessment.   
 To read more about our finance options, click here. 
*Patient Satisfaction taken from PHIN.org.uk (Private Healthcare Information Network)