A breast uplift, mastopexy or breast lift operation is very common for woman whose breasts have dropped or lost shape due to childbirth, weight loss or as part of the ageing process. Many women can feel self-conscious about their breasts which can have a significant impact on their self esteem and confidence. Breast lift surgery elevates ptosis (sagging) of the breasts which corrects the shape and size of the breasts, creating a more youthful appearance.
During the procedure, excess tissue and skin is reduced and the nipple area is positioned higher on the breast. A breast lift takes approximately 2-2.5 hours under a general anaesthetic and requires an overnight stay in hospital. Often referred to as a boob lift or boob uplift, breast uplift surgery is extremely effective in order to give the breasts a more youthful and pert appearance.
A breast lift can be combined with a breast enlargement (a breast lift and implant surgery) to give a lifted and larger shape – this is called an augmented mastopexy or breast lift and enlargement with implants. 
Your surgeon will make an incision around the areola (dark area around the nipple), vertically down to the breast crease and horizontally along the breast crease. This type of incision can sometimes be referred to as the anchor due to its shape. Your surgeon will then remove the excess skin and reshape breast tissue,  re-positioning your nipple and lifting it higher.
To ensure full recovery from your breast uplift, we advise waiting 7-10 days before returning to work and 6 weeks before returning to physical activities and exercise. You will also be required to wear a support bra and attend important follow up appointments for your post op care at your local MYA clinical hub.
*Patient Satisfaction taken from PHIN.org.uk (Private Healthcare Information Network)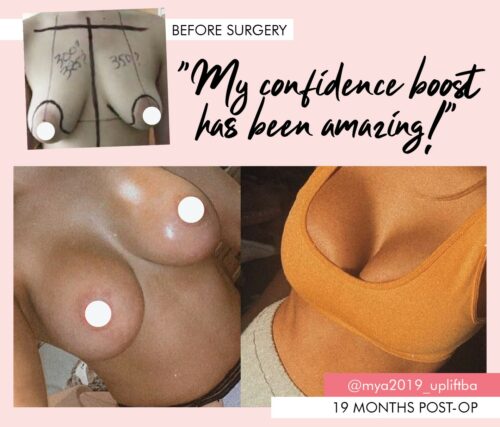 *There is no guarantee of specific outcomes so individual results and experiences can vary from person to person.