Breast reduction surgery, also known as a boob reduction or a mammoplasty, is an operation to reduce the weight and volume of the breasts. Our specialist MYA surgeons reshape the breast by removing breast tissue, fat and excess skin (from one or both breasts) and repositioning the nipple to create smaller, uplifted breasts that are more proportionate to the patient's body.
Many women are troubled by back and shoulder pain due to their large breasts and find certain physical activities and exercise such as running challenging and uncomfortable. Whilst adding to a patient's general comfort, breast reduction surgery can prove very beneficial to women of all ages and can have a positive impact on their self-esteem.  
Some women also feel self-conscious about the size and appearance of their enlarged breasts and find that they are restricted in what clothing and swimwear they can wear.
*Patient Satisfaction taken from PHIN.org.uk (Private Healthcare Information Network)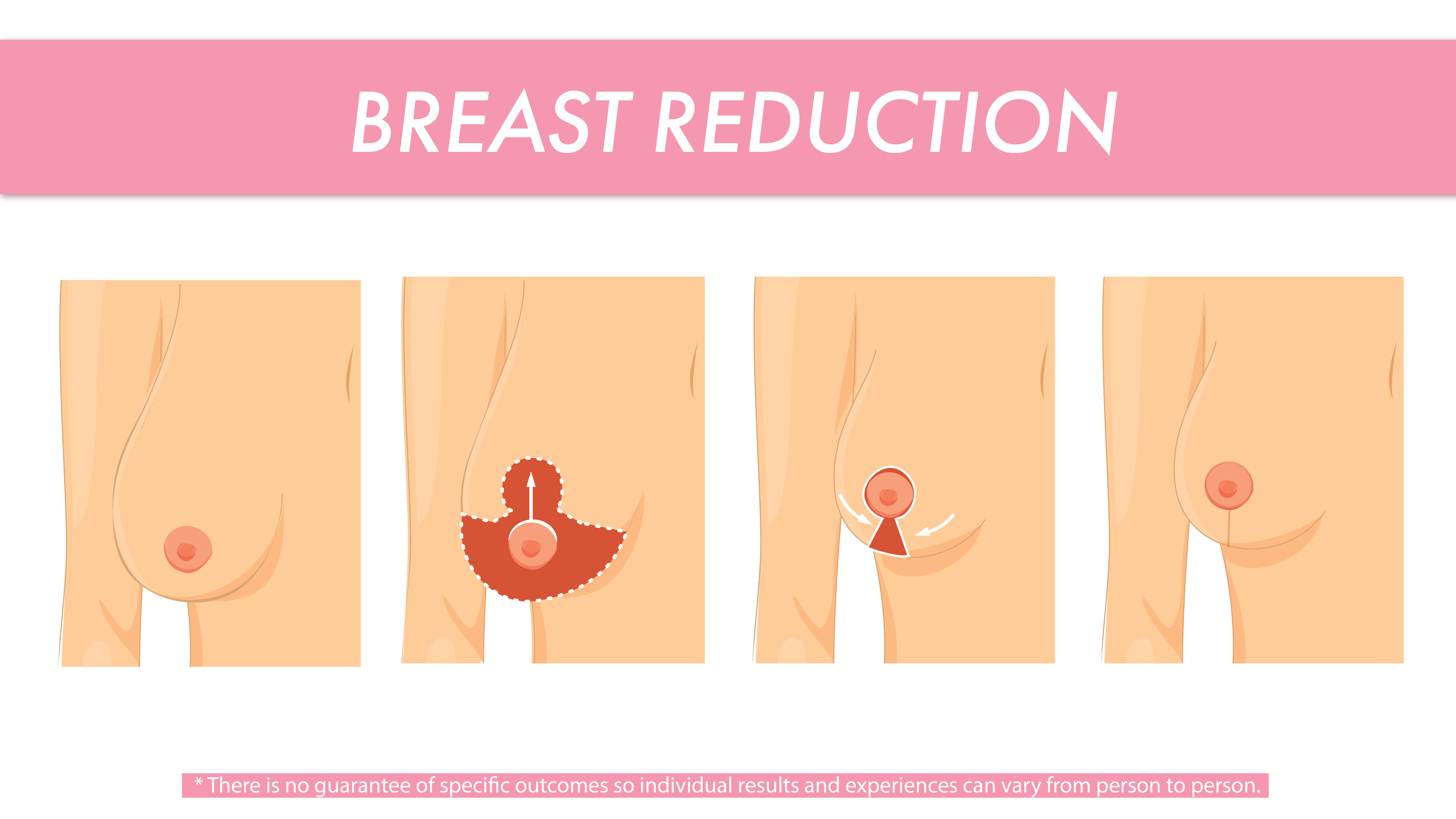 What are the benefits of Breast Reduction Surgery:
There are a number of reasons why a woman may opt for this procedure, having breast reduction surgery can help to:
Improve the shape and look of the breasts.
Reduce associated back and neck pain that carrying larger breasts can cause.
Reduce bra discomfort and bra strap irritation.
Improve confidence and self-esteem.
Make exercising easier and reduce discomfort during physical activity.
Improve how your clothes fit and increase your wardrobe options e.g. swimwear, strappy tops, vests etc.
Breast Reduction Surgery
Our experienced MYA surgeons will work with the patient to understand their personal requirements and will recommend the best treatment plan for them, discussing the risks, limitations, and benefits of breast reduction surgery. A reduction may be required in one or both breasts and typically combines an areola reduction and or lift.
A breast reduction is a complex surgical procedure and is carried out under general anaesthetic. The procedure can take between 1.5-3 hrs and patients will be required to stay overnight to recover in one of our MYA hospitals.
Following breast reduction surgery, patients will have dressings on their breasts and in some cases drains (plastic tubes attached to suction bottles). The drains will remove any fluid that collects after the procedure and will be removed by a nurse before the patient is discharged from hospital.
Patients are advised to take 7-14 days off work following a breast reduction procedure and attend post-operative nurse appointments at one of our MYA clinical hubs. If a patient's job is more physically demanding, they may be required to take additional time off work for recovery.
Wound care is extremely important following a breast reduction procedure, wounds will be checked 7-10 days post-operatively by a MYA Nurse and patients are required to attend additional post-operative appointments to allow the clinical team to monitor your healing and recovery. Patients are required to keep their incisions clean and dry and avoid using perfumed products or creams for 6 weeks post-op.
*There is no guarantee of specific outcomes so individual results and experiences can vary from person to person.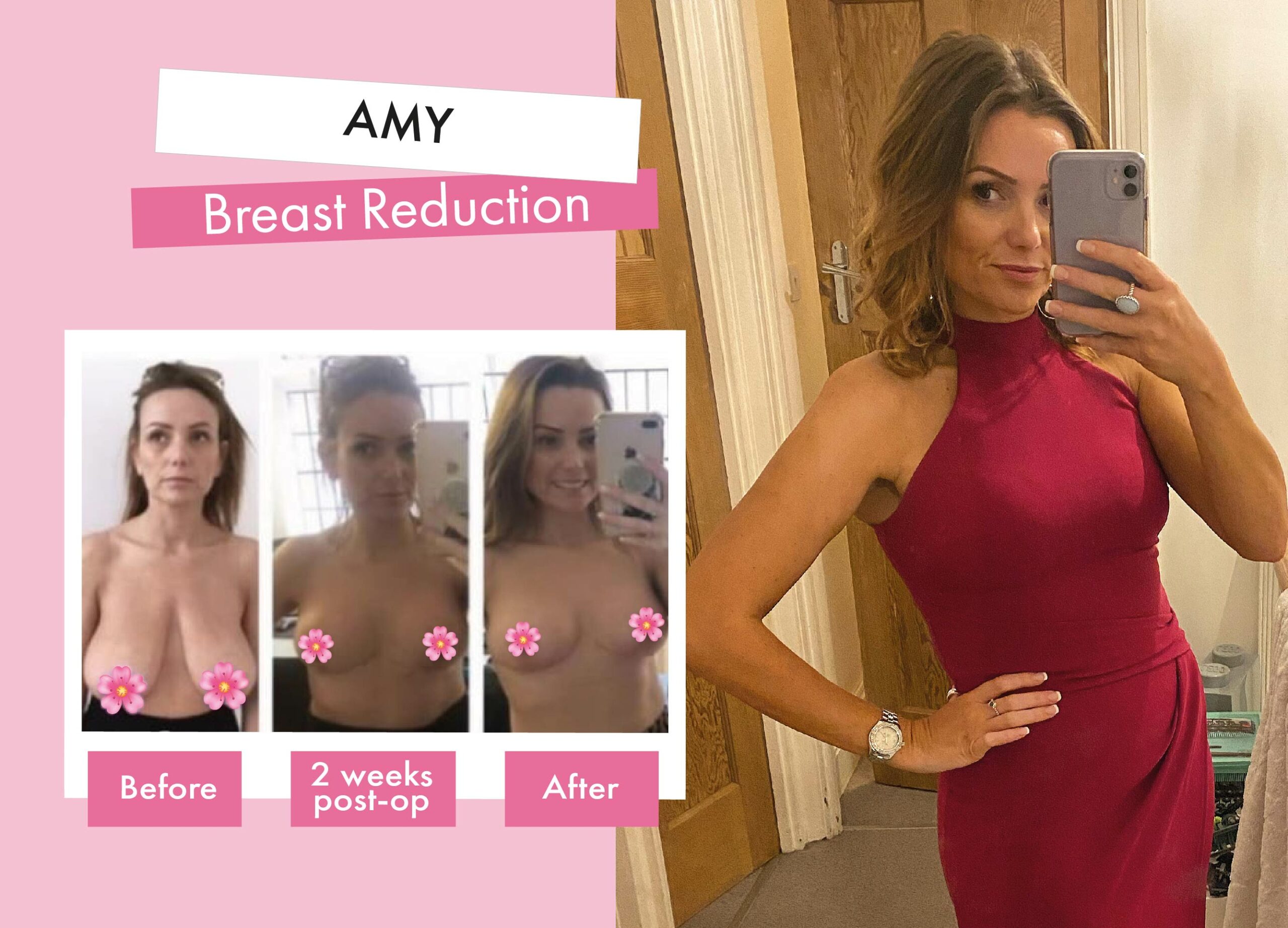 What is a Gigantomastia procedure?
Gigantomastia is defined as excessive growth in breast tissue resulting in extremely large breasts. It can affect one or both breasts, causing breast asymmetry. Gigantomastia may occur spontaneously, during puberty or pregnancy, or while taking certain medications.
Large breasts can become debilitating to many women, often affecting their self-confidence and quality of life, preventing them from participating in sport and exercise and limiting the clothing options available to them. Problems associated with large breasts can include the following: back and neck pain due to heavy breasts, rashes and irritation from bra straps and breast pain. 
Gigantomastia surgery, is similar to a breast reduction in technique, however, the amount of breast tissue removed is greater (500g+ per breast) and the distance from the sternum to nipple pre surgery is typically greater than 30cm. Your expert MYA surgeon will discuss the risks and limitations involved as well as the life changing results this procedure can bring.