MYA London Clinical Hub
MYA are proud to be market leaders and the first cosmetic surgery provider to introduce virtual eConsultations. We offer a personalised eConsult service that has been uniquely designed to meet the needs of our patients with the added convenience of being from the comfort of their own homes.
The majority of our touchpoints are carried out virtually, for your convenience, but there are instances when it's necessary to travel to a physical location. You will be asked to travel to our London clinical hub to meet your Surgeon and your Nurse, and for any post-operative appointments. Your Surgeon and Nurse appointments are scheduled on the same day to minimise the amount of times you need to travel to one of our Clinical Hubs.
Your London clinical hub is on the 3rd floor of 75-76 Wimpole Street. Located in central London, just 10 minutes from Bond Street, Oxford Circus and Regent's Park Station. This location is easily commutable by tube, bus and car. When you arrive at 75-76 Wimpole Street, press the buzzer for the reception to be let into the building. All entrances and exits have disabled access via the use of a ramp, however, this location does not have a lift between floors.
MYA London Patient Journey

Initial eConsult: You will meet with one of our friendly and professional eConsult Advisors via video call to discuss what to expect during your MYA journey. You will learn about the procedure, see before and after photos and ask any questions. Your eConsult advisor will also discuss surgery costs and payment plans with you.
Surgeon eConsult: You meet your surgeon twice as part of a two-stage consent process. Your first meeting will be via eConsult video call. Here your Surgeon will run through your procedure, ask about your requirements and the look you want to achieve, and they will outline any risks and limitations.
Physical clinical hub day in London: You will meet your surgeon for a physical assessment and for measurements to be taken. You will then meet your MYA Nurse afterwards to have your vitals and photographs taken.
ePre-op: This is a pre-operative assessment with a MYA Nurse, carried out via eConsult video call. This appointment is to run through your medical history and discuss any findings from your GP summary. Your Nurse will discuss what to expect, how to prepare for your procedure day and outline your post-op care requirements.
Surgery day: Your surgery will take place at one of our wonderful hospital locations.
Post-operative assessments at clinical hub in London: You will attend the London clinical hub to receive your post-operative wound care from a MYA Nurse. You will meet your Surgeon for final sign off after 12 weeks.
London Hospital Locations
Depending on your surgeon and our availability, your MYA surgery will be carried out at one of our wonderful London hospital facilities:
New Victoria - Kingston upon Thames
London Welbeck -Central London
Harley Health Village - Central London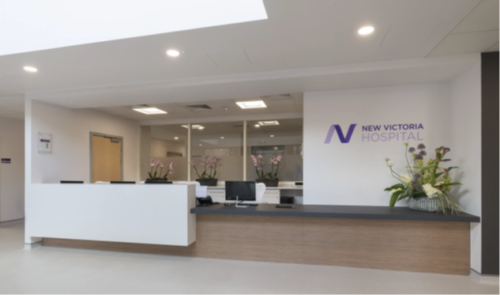 New Victoria Hospital: 184 Coombe Lane West, Kingston upon Thames KT2 7EG
Travel
 By rail/Tube:
Oxford Circus, Bond Street and Regent's Park tube stations are all a 10 minute walk to the Clinical Hub. They are served by the Bakerloo, Jubilee and Central lines.
If you are travelling from Kings Cross St Pancras, take the Victoria Line (Southbound) 3 stops to Oxford Circus.
By bus:
The number 453 bus serves between Deptford Bridge across central London to Marylebone and runs a very frequent service. The closest stop to the clinic is Portland Place which is a 5 minute walk away.
By road: 75-76 Wimpole street is in the central London congestion charge zone.
Head west on M25. At junction 23, take the A1(M)/A1/A1081 exit to Hatfield/London N/London C/Barnet.
At Bignells Corner, take the 2nd exit onto the A1 slip road to London N/London C/Brent Cross.
Continue onto A1. At Stirling Corner, take the 2nd exit onto Barnet Way/Barnet By-Pass/A1.
At the roundabout, take the 2nd exit onto Barnet By-Pass/Watford Way/A1.
Keep right to continue on Barnet By-Pass/Watford Way, continue to follow Watford Way. Continue onto Hendon Way/A41. Slight right onto Brent Cross Flyover/A41. Continue to follow A41.
Turn right onto Adelaide Rd/A41. Turn left onto Finchley Rd/A41 and Continue to follow A41.
At the roundabout, take the 2nd exit onto Park Rd/A41. Continue straight onto Allsop Pl. Continue straight to stay on Marylebone Rd/A501.
Turn right onto Harley St. Turn right onto New Cavendish St. Turn right onto Wimpole St. Destination will be on the left.
Parking
The hospital has parking outside on the roads, although this is expensive and is frequently busy.
There is an NCP carpark on Harley Street, only a few minutes walk away from the clinic, located at 6-7 Weymouth Mews, Marylebone, W1B 1QE.
There is also a Q-PARK located on Queen Anne Mews, W1G 9HF.
Procedures 
MYA are the market leader in cosmetic surgery and our expert team of surgeons are some of the most experienced, skilled and highly qualified in the industry. 
COVID-19 update:
To help keep you and others safe, please arrive at the clinical hub or hospital wearing a face mask. If you have developed COVID-19 symptoms, do not attend your appointment, and alert your MYA clinic.
Patients must attend the clinical hubs alone and are asked not to arrive early for their appointment time. Patients may be required to wait outside the clinical hub until they are ready to be seen. Breast implant patients must supply their own sports bra and top for trying on implant sizers when attending an appointment at the clinical hub.