Breast enlargement surgery, also known as a breast augmentation procedure, breast enhancement or a boob job, is extremely popular in the UK across a wide age range.
What is a Breast Enlargement?
A breast enlargement is surgical procedure to enhance the shape and size of the breasts. Our expert breast augmentation surgeons insert breast implants to increase the size of the breasts and achieve a fuller shape. Breast enlargements are one of the most popular procedures in the UK, with the highest patient satisfaction rate in the cosmetic surgery industry and can lead to increased confidence, improved self-esteem, and a better quality of life.
Every patient's reason for getting breast implants is completely unique, so here at MYA we provide a specialist service that is tailored to your needs. We have helped thousands of happy patients through their breast enlargement journey, so take your first steps today!
Why Choose a Breast Enlargement Procedure?
Patients who consider breast enlargement surgery are typically seeking a larger cup size for one of the following reasons: 
Their breasts didn't fully develop to their desired size during puberty

 

To increase self-esteem and confidence

 

To enhance what they already have and achieve a fuller size

 

Following pregnancy, due to breasts losing volume, shape and fullness

 

Following weight loss due to breasts losing volume, shape and fullness

 

They are suffering from asymmetry or tubular breasts and want to improve the appearance and symmetry of their breasts

 

Patients who identify as transgender and are looking to achieve a larger breast size

 
Breast Enlargement Surgery
Breast enlargement procedures are performed under general anaesthetic and take between 30 minutes -1 hour in theatre. Depending on the surgeon's recommendations and your personal preference, there's an option to be a day patient or stay overnight to recover in one of our MYA hospitals.
Patients should expect bruising and swelling to the breasts and surrounding areas and may experience tightness, discomfort and sensitivity following their procedure. Pain should subside after 7-14 days and pain relief will be prescribed to ease any discomfort. 
Breast Implants:
Every patient's breast enlargement journey is different, our specialist breast augmentation surgeons will recommend the best implant size and placement for you based on your physical requirements, body shape, existing breast tissue and your desired result.
Size – Breast implants are measured in cubic centimetres (or CC's for short), not in cup sizes, for example: 350cc or 400cc. 

 

Shape – There are two shapes of implants round or anatomical (also known as teardrop).

 

Placement – The placement of breast implants refers to whether the implant is placed under the muscle, over the muscle or partially between both, described as submuscular, subglandular and subfascial. 

 

Profile/Projection – The profile of breast implants refers to how much it projects forward when you are standing and is described as low, moderate, high or ultra high profile.

 
What Breast Implants do MYA use?
MYA use the highest quality implants, by Mentor a company owned by Johnson & Johnson, recognised as one of the world's most trusted companies. Each breast implant's outer layer is made of silicone and is filled with a cohesive gel that holds together uniformly and retains a natural give that best resembles breast tissue. Your dedicated MYA surgeon will discuss the breast implant options available to you in more detail during your consultation.  
How much does a Breast Enlargement cost?
A breast enlargement procedure with MYA can cost anywhere from £5,795. Procedure costs are tailored to individual requirements, and you will receive a fixed price following your surgeon assessment.  
To read more about our finance options, click here.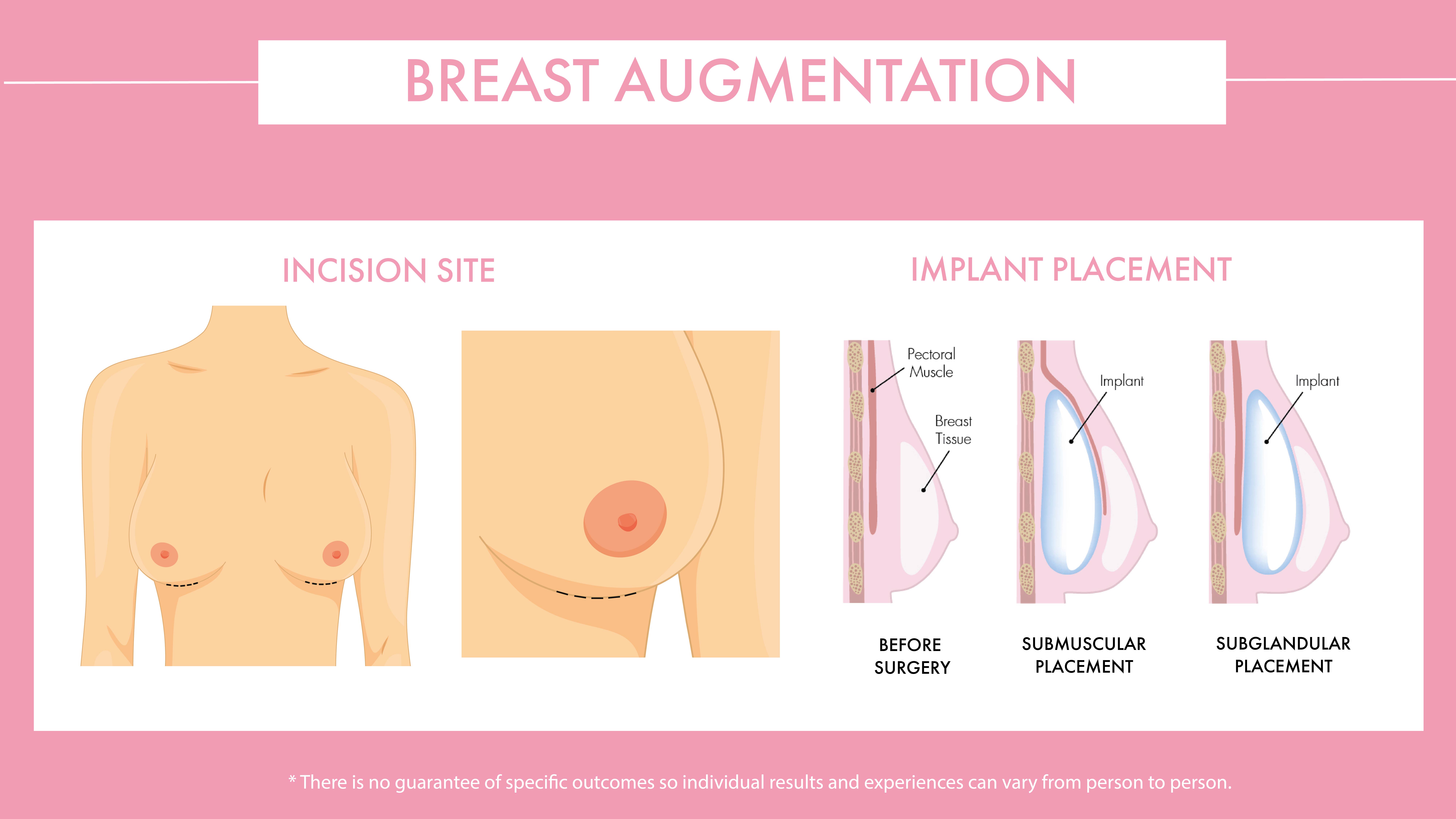 *Patient Satisfaction taken from PHIN.org.uk (Private Healthcare Information Network)